I'm posting a desperate Please-help-me poll on the website today because I can't decide on a cover design by myself! I swear, it would be easy to spend more time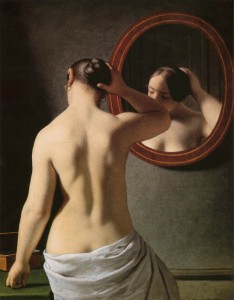 designing a cover than writing an entire book! The most difficult part, of course, was making sure it's clear and eye-catching at the small size of a website preview image (around the same size of the images in the cover poll) but a close second would be making the design fit the genre.I must have read too many mysteries, because the first few covers all looked like that. I felt the need to be especially careful NOT to do that since I have the word "perjury" in the title. With a darker, moodier cover it would be easy to assume someone's getting killed in the first few pages.
I found a lot of literary fiction covers are photos behind floating text. I tried that too,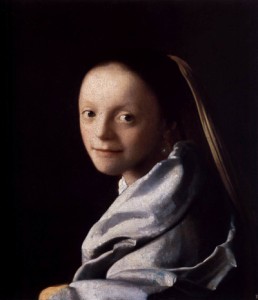 but I wanted a template I could use for future books. I'm satisfied with the template- I can change the color of the black "stripes" to a different dark color and still keep the "look", but I just couldn't decide on a graphic. The Eckersberg painting I tried first (above, right) is still the one I think fits the novel best thematically. There's even a scene with the main character studying herself in the mirror, but it doesn't read well as a graphic at the small size most websites display, so I went back to the drawing table.
Next I chose the Vermeer portrait of a young girl (above left) also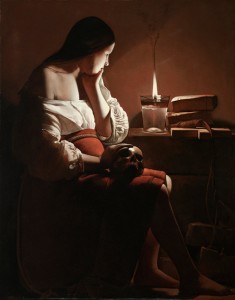 appropriate for the story. After I cropped it to emphasize the girl's eyes, however, one of the comments I heard was that she looked like a sad baby, definitely NOT my point! My two favorite potential covers utilize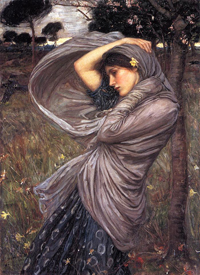 "Boreas" by John William Waterhouse (left)  and The Magdalena with the Smoking Flame by Georges de La Tour (at right).
I'm sure there are a few artistic purists out there who will object to the use of fine art being for a [hopefully] popular work of fiction, but I'm comfortable with it as a form of tribute. I like the idea of someone formerly uninterested in fine art seeing a painting on the cover and being intrigued enough to go look up the artist. Plus, as an artist myself, I don't think Eckersberg, et. al, would mind at all.
So- thank you if you already voted, or is on their way to vote now- I really need the help!!