My sister Stefanie, who criticized me viciously for every sex scene I ever wrote, calling them "shocking" (I'm not kidding!) and worse, has been writing erotica! She's so into the genre that she published a reference book "geared toward the writer of romance and erotic fiction". It's called "TheSEXaurus: Sexy Words for Writers" and do NOT ask me how to pronounce that. I had to cut and paste the title to spell it correctly. It's live on Smashwords, 99 cents for a variety of formats, and will arrive on Amazon for Kindle later this week. Meanwhile, the PDF is free on her site. And it's illustrated by me!
In my everyday obsessive manner, I started with her cover design and went way, way, WAY overboard. I had an idea to write a stereotypical romance story, drastically shortened to hit just the highlights of the genre, and use the illustrations to separate each section. Because it's absolutely impossible for me to let something go, I worked on the vector illustrations for ages before I was satisfied. I ended up with results I absolutely love, though. (Oh, yeah, Stefi likes them, too! I suppose that should have come first, but we are sisters!)
Check out the book HERE on her site, whether you're a writer or just curious. Here are a couple of the illustrations from the story inside, which I call "The Princess and the Pirate". Apparently I read too many Johanna Lindsey novels when I was pregnant, a hundred years ago! Too funny.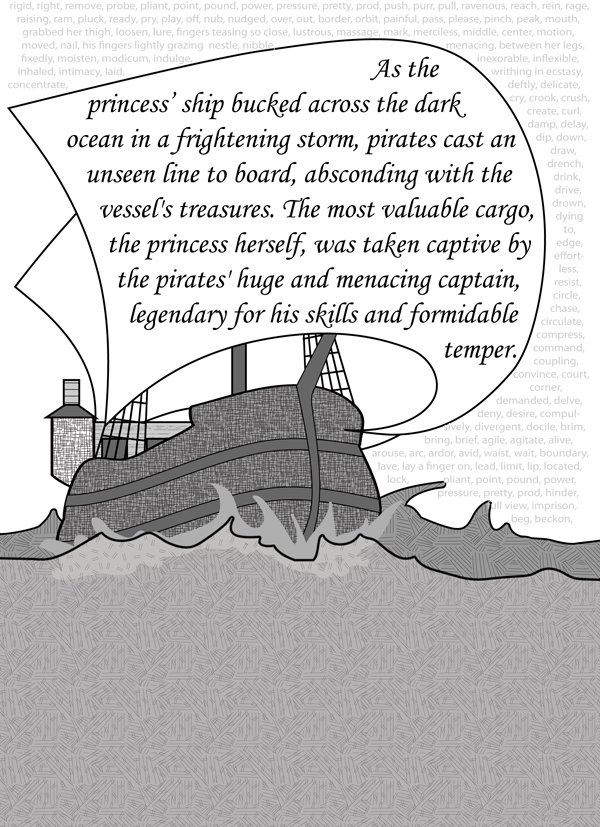 The illustration above is the second in a series of eleven divided throughout the book, and a fairly good representation of what I chose to do: putting the text of the story into each image, aligned artistically when possible, and using words from TheSEXaurus as background texture. I think they came out well. These are JPEGs of the original vectors.
Below is an early version of an illustration from later in the story. See how one of the words split up near the end? I use Adobe Illustrator, and it's a giant pain getting all the text to go where you want it when you align to the shape of an object. Text is a pain altogether in any illustration, in my opinion. This time, though, I actually think it was worth it!